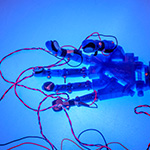 ETIC Updates
Find the latest news, events, and information from the Entrepreneurial and Technology Innovation Center (ETIC). Contact mnizich@nyit.edu for more information.
News Release | May 16, 2016
The National Security Agency and the Department of Homeland Security have designated NYIT as a National Center of Academic Excellence in Cyber Defense Education through academic year 2021.
Read More at NYIT News