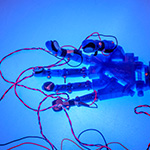 ETIC Updates
Find the latest news, events, and information from the Entrepreneurial and Technology Innovation Center (ETIC). Contact mnizich@nyit.edu for more information.
News Release | Sep 14, 2017
Whether discussing the security of people's private health and financial data or the critical infrastructure of smart cities, New York Institute of Technology's annual cybersecurity conference will spur dialogue around increasingly complex challenges faced by the cybersecurity community.
Read More at NYIT News