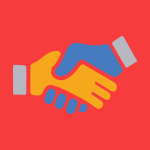 Career Corner
Welcome to the NYIT Career Services Blog. Visit us for career advice, learn more about upcoming events and industry news as well as profiles of NYIT alumni and students. We are here for you!
More Resources
4 Questions to Consider at a Networking Event
For most college students, networking events can be a serious anxiety-inducing challenge. Students have many fears ranging from not knowing what to say in a short amount of time to the pressure of having to make a connection and build upon it.
In a previous post, we shared some tips for people who hate networking, but love it or hate it, networking is an important skill and part of the job search process.
The most important thing I tell students about networking is to manage their expectations. If you think you're going to meet someone and they're going to offer you a job right away, then you're going to be disappointed and there won't be much of a connection. What I advise students is to get to know someone, learn about their career path, ask them questions about what worked or didn't work for them when they were going through the job search process.
Here are some questions to consider when attending a networking event:
What is the employment outlook like in your field?
You might want to ask this to learn more about employment trends, growth, the opportunity for advancement in your industry. Learning more about the employment outlook can prepare you for your job search and the chances of getting a job in your industry when you graduate. Are job prospects in this field growing or declining?
What type of personality is most compatible in your industry?
You might want to ask this question if you're curious if this industry is the right fit for you. What type of structure do you like? Do you identify as an extrovert, introvert or ambivert?
Are you social, entrepreneurial, or technical? Remember, when you're searching for jobs, it's not just about the employer interviewing you but also finding what works best for you, your personality, and your skill set.
In your opinion, what is the most important thing one needs to know before entering your field?
You might want to ask this question to learn more about what you need to do to prepare for this field. Do you need a graduate degree or additional training? Are you qualified based on your internships, previous employment or coursework? Each industry is different from one another and varies from the hours, job outlook, compensation, and training required. Connecting with someone at a meetup is a great way to get their insight on some of their experiences and what they have learned as someone on their career path.
Has there ever been a time where you wanted to change career paths?
You might want to ask this question if you're not sure about your career path. It's perfectly fine to change careers. Learn more about why people change careers. What is working or not working for you in your career? Do you enjoy the work? Are you changing for the compensation or work/life balance? Remember, changing jobs and changing careers are two different things. You may not like the company you work for but wish to stay in the field. If you are not happy with the work that you are doing in general, then you may need to reflect and re-evaluate your career plan.
To learn more about networking, schedule an appointment with Career Services.
You can also join us and practice your networking skills by registering for the following events this spring:
April 15th– Career & Alumni Meetup