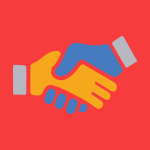 Career Chronicles
Welcome to the New York Tech Career Chronicles Blog brought to you by Career Success and Experiential Education. Visit us for career advice, learn more about upcoming events and industry news as well as profiles of New York Tech alumni and students. We are here for you!
More Resources
Virtual Volunteering? Yes, Please!
The ongoing pandemic has undoubtedly had an impact on all of us. The unpredictability of the situation may be causing us to feel anxious, uneasy and unproductive. Being stuck inside all day certainly doesn't help either, especially as the weather gets colder. With the holidays coming up and so many organizations and people in need of help, now is the perfect time to look into virtual volunteering.
There are currently a variety of virtual volunteer opportunities on Handshake, Idealist and Volunteermatch.
Why Volunteer Virtually?
Similarly to an internship or a job, volunteering can help you build valuable skills and knowledge. Volunteering also gives you the perfect opportunity to network and meet potential employers. Additionally, these positions can be added to your resume as many employers consider volunteer work an opportunity to gain and develop valuable experience.
Virtual volunteering can help you to increase your self-confidence as you work directly or indirectly to benefit others. Although you may not be in physical contact with others, you will feel a sense of connectivity. Volunteering is proven to have a positive effect on our overall physical and mental health, and you will feel accomplished as you work towards the betterment of our community.
Volunteering also gives you the opportunity to explore your areas of interest. Perhaps you will surprise yourself, and find that you're interested in a new area of work, or discover a new hobby. Short-term and long-term volunteer positions can be found in education, healthcare, nonprofit, technology and government organizations. Tasks may include research, marketing, data science, writing and editing, and much more. If you take the time to do a little research, you will be amazed at how many exciting opportunities are out there!
If you have further concerns or questions regarding virtual volunteering, feel free to make an appointment with a career advisor via Handshake.
By: Narissa Kawal, Career Ambassador, Career Services