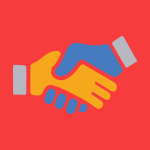 Career Chronicles
Welcome to the New York Tech Career Chronicles Blog brought to you by Career Success and Experiential Education. Visit us for career advice, learn more about upcoming events and industry news as well as profiles of New York Tech alumni and students. We are here for you!
More Resources
ICYMI: National Student Employment Appreciation Week at New York Tech
This year's National Student Employment Appreciation Week at New York Tech was a bit different than previous years. Due to the pandemic, all events were held virtually. However, this did not stop the Career Services team from creating and offering fun-filled events all week long!
On Monday, April 12, a "Thank You" video created by our very own Career Ambassador, Nicole Varone, was uploaded across our social media platforms. This exclusive video featured department supervisors, President Hank Foley, Assistant Provost Tiffani Blake, and many more familiar faces. If you haven't had a chance to see the video, feel free to check it out on our Career Services Instagram account @nyitcareer.
"Teleport Tuesday" had a great turnout! Student employees and supervisors participated in the ultimate showdown to test their knowledge through an exciting game of "Superhero Jeopardy". The question categories included New York Tech history, Career Services, and legendary superheroes and villains. Not only did the panelists answer questions, but spectators were providing answers in the chat. Can you guess which team came out with the most points? If you chose Team Supervisor, you are correct! The final score was 1900 - 1350. The winning team consisted of Samantha Mon (Assistant Director, Career Services), Kinsley McNulty (Program Coordinator, Student Engagement), and Tadiyos Gebre (Director, Academic Enrichment).
On "Wolverine Wednesday", supervisors had the opportunity to give back to their student teams. Each student employee received their individualized "superpower" along with a superlative quote.
Every department serves as an asset to the educational foundations of New York Tech, and the student employees always do their part to help their departments excel.
On "Thor Thursday", Career Services held a virtual interactive session "Supervising and Mentoring: Best Practices For Success" featuring guest speaker Dr. Olena Zhadko. This event was open to
all New York Tech students, staff and faculty. Attendees learned about the benefits of mentoring, essential components of successful mentoring, the difference between supervision and mentorship, and steps to take to develop a mentoring relationship. Olena shared practical advice on how to include mentorship in supervision and resources for students, faculty and staff to take away.
We took it way back on "Flashback Friday" and asked current and former student employees to think back on their experiences working for New York Tech. Whether they've worked remotely or
physically on campus, the Career Services department invited students and alumni to post "flashback" pictures and videos. It is always great to see how a student's professional development has evolved through their on-campus work experiences. Through the pictures and videos we were tagged in, we learned that students have created lifelong friendships, developed beneficial skillsets,
created fun projects, and overall had rewarding work experiences.
Have you ever thought about pursuing an on-campus position? I suggest you look into it. All of the work you will do for your department will create a solid foundation for your future career outside of New York Tech. Plus, you'll be able to participate in all of next year's action-packed National Student Employment Week Festivities!
By: Alessia Wilmore, Career Ambassador, Career Services