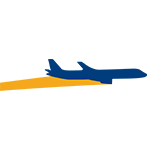 Ready for Takeoff Community Blog
Ongoing updates, events, and an insider's look at the Ready for Takeoff project, and its community partnership with the Viscardi Center.
Feature | Oct 17, 2019
Every year, JetBlue takes a group of students with special needs from the Henry Viscardi School on a flight to Boston. Twelve NYIT College of Arts and Sciences students captured the fifth anniversary trip in the short film, Ready for Takeoff.
Read More at the Box